Built for years of bathing comfort and independence, the key to getting the most out of your tub is a little regular maintenance. Thankfully, keeping your tub clean is made easy with our handy guide.
Keeping your walk-in tub in tip-top condition will ensure your tub remains safe, clean and the perfect space for relaxation.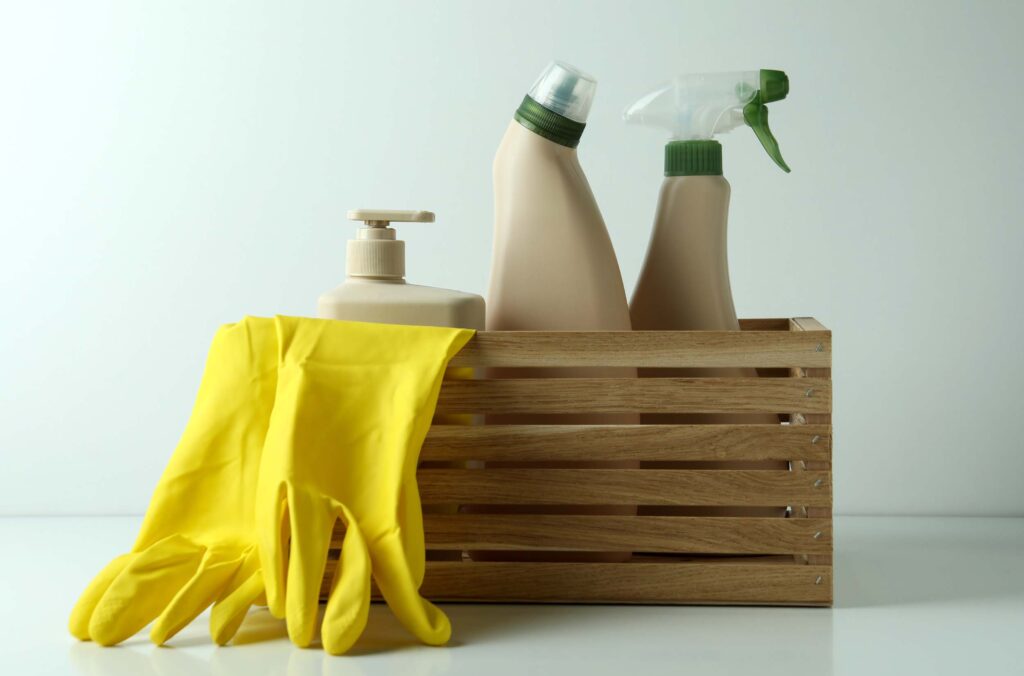 A guide to taking care of your walk-in tub
After investing in a walk-in tub, you'll want to ensure it remains in good working order for years to come. When frequently cleaning your bath, you'll soon find you will hardly need to do a huge clean at all.
Of course, there are some things you can do each time you bathe to help keep on top of regular cleaning, making it easier to clean your tub yourself and continue bathing independently. It can also be incredibly handy to keep a cleaning cloth and multi-use spray nearby to keep your walk-in tub sparkling clean and safe for use. 
For ease, we've broken down our cleaning checklist into daily, weekly and monthly cleaning and deep cleaning - making it quick and easy to keep on top of your tub's cleanliness.
Daily cleaning
Rinse around the tub with your hand-held shower wand
Possibly the easiest and quickest way to do a surface-level clean of your tub is with your shower wand. Simply rinse around your bathtub and fixture with warm water to clean off any body oils or soap residue that may be left behind.
Leave the door open post-bath to allow the seal to dry
Much like the way you'd leave a front-load washing machine door open after use, it's important to allow any water around the seal of your tub to dry.
Naturally, when we bathe, our bathroom can be filled with moisture. While the whole intention of the seal is to keep water inside of your bath, it's not unusual for some moisture to make its way in. Simply leave the door open for a little while after your bath, to allow it to dry.
Wipe down entry doors, handrails and seats
Designed for stress-free cleaning, after your soak you can simply use a damp cloth and mild detergent or cleaner (we recommend equal parts blue Dawn Dish Soap, white vinegar and water) to wipe down the entry door, handrails and seat. This will prevent watermarks from building up, and rid your tub of any leftover soap residue.
Shine your tub's faucet, hand-held shower wand and handrails
Now, it's totally up to you whether you give your tub's faucet, shower wand and handrails a shine after each bath, or simply give them a once over on a weekly basis instead.
All you need is a damp cloth to clean off any watermarks, followed by a dry cloth to leave them sparkling clean.
Weekly and monthly cleaning
After using your walk-in tub for several weeks, soap residue and other materials can start to build up - especially if you've used bath salts or teas as recommended in our best bathing guide.
A slightly deeper clean, either weekly, bi-monthly or monthly is best to prevent any potential build-up!
Deep cleaning
Use a whirlpool disinfectant cleaner
For occasional deep cleaning, dilute Penner Whirlpool Disinfectant Cleaner at 2 oz. per gallon of water. Use a spray bottle and spray the entire interior of the tub. Wait 10 minutes. Rinse with warm water using the hand-held shower wand. 
The best cleaning supplies for walk-in tubs
When you're cleaning your tub daily (or after each use), always use mild bathroom cleaners without harsh chemicals or abrasives. If you're unsure about your power to scrub, a foaming formula may be beneficial to help remove soap scum with minimal effort.
Always use a soft cloth or sponge to wipe down the walls of your tub, and if you want to get in real close, you can use a long brush to clean the jets and drain.
Things to remember when cleaning your walk-in tub
While walk-in tubs are built to last, you will still want to take a few precautions to prevent damage from occurring during cleaning. Here are our suggested tips and tricks:
Never use any harsh cleaning products or wire brushes, or other abrasive tools to clean your tub, as these can scratch and dull the surface of your walk-in bath

Only use mild detergents for cleaning your bathtub

Use

Penner Whirlpool Disinfectant Cleaner

  for occasional deep cleaning
The bottom line
Cleaning your walk-in tub may feel like a chore, but a small amount of upkeep after each use can keep your tub working beautifully for years to come. A small spring clean after bathing will keep your bathtub clean and free of bacteria and soap left behind. 
After all, your tub is most certainly an investment that allows you to bath safely and independently at home, so it's important to protect your new bathroom addition.
Ready to make the most of your walk-in tub?